Over 700 students at McFarland High School heard a powerful message from Arno Michaelis and Pardeep Kaleka, members of Serve2Unite and also advisory board members of our organization. Students then participated in one of four break out discussion groups covering events like "How terrorism is portrayed in the media", "Hip Hop for Peace", "Moving Past Hate", and "Defeating our true enemies: Fear, Anger, and Confusion".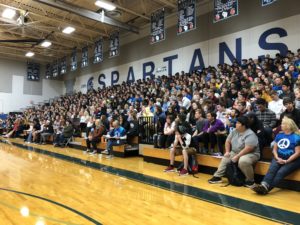 FEEDBACK FROM FCFARLAND HIGH SCHOOL
Hi Masood!!! Thank you for a wonderful day! Remarkable people influencing remarkable young students. My heart is full! This is just the beginning of continued great work together. I have so much respect for you and for your organization.
MEDIA COVERAGE OF THE EVENT
https://www.nbc15.com/content/news/Sparta-Peace-Project-at-McFarland-High-School-494486981.html
https://madison.com/wsj/news/local/education/local_schools/spartan-peace-project-aims-for-change/article_71f1653a-21a8-53db-89bb-11f631d6338b.html